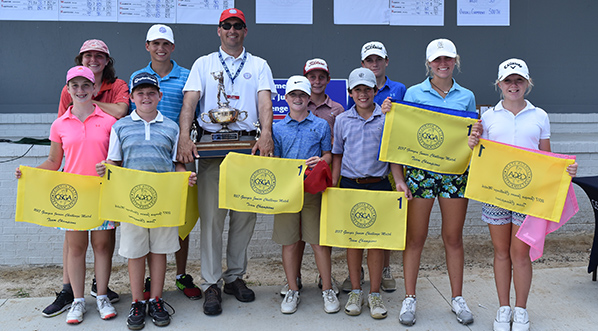 South Section wins Georgia Junior Challenge Match
VALDOSTA, Ga. - The South section wins the Georgia Junior Challenge Match with a total of 102 points. The West section earned runner-up honors with 50 points. The 44th annual competition took place at Valdosta Country Club, July 24-25.
In the 18-hole division, Brock Blais from the winning South section won his age group (Boys 11-12) at 6-over-par 150 (72-78). Two players finished at 9-over-par 153 in the Boys 13-14, including Brantley Baker from the South (79-74) and Jack Boltja from the Middle (77-76). After a three-hole playoff, Baker made birdie on number three to win his group. In the Boys 15-18, JohnJohn Runyon from the West posted an 8-over-par 152 (79-73) for the title. Dorminy Marie Johnson from the East finished atop the Girls 14-18 group at 12-over-par 156 (77-79).
In the 9-hole division, Triston Whitley from the West wins the Boys 10-and-under group at 8-over-par 80 (41-39). Mary Miller from the Coastal posted a 4-over-par 76 (38-38) to win the Girls 13-and-under group.
Final Standings
South 102
West 50
East 28.5
Middle 28
North 20
Coastal 12.5