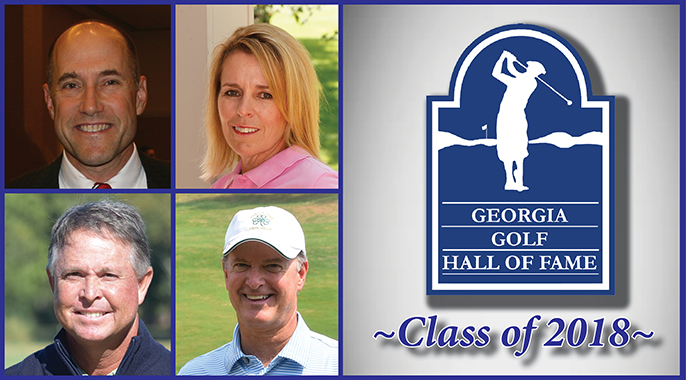 29th Georgia Golf Hall of Fame Induction Ceremony
Click here to purchase tickets to the 2018 Induction Ceremony!
Honoring the Class of 2018:
Stephen Hamblin, Alpharetta, Ga.
The longtime executive director of the American Junior Golf Association who has dedicated more than three decades to the overall growth and development of junior golf.
Martha Stacy Leach, Hebron, Ky.
The USGA national champion and former University of Georgia standout who has competed at the highest level from junior golf to the present.
Sonny Skinner, Sylvester, Ga.
The PGA Teaching Professional who has enjoyed a successful career on the state and national competitive circuits.
Wright Waddell, Columbus, Ga.
The lifelong amateur golfer who has won on nearly every level and has devoted many years to giving back to the game.
When: Where: Lodging:
Saturday, January 20, 2018 Atlanta Athletic Club Atlanta Marriott Peachtree Corners
5:30 p.m. Cash Bar Cocktail Reception 1930 Bobby Jones Drive 475 Technology Parkway
6:30 p.m. Dinner & Ceremony Johns Creek, GA 30097 Peachtree Corners, Ga., 30092
Business Attire Click here to make hotel reservations.
For information, contact Kim Crisp at kcrisp@gsga.org or 678-324-5962.
You can now place your order for a tribute in the 2018 Banquet Program online!
Full-page and half-page tributes are available. Please note that tributes may be provided by the sponsor or may be produced by the GSGA.
Please indicate your preference on the online order form.
FULL-PAGE TRIBUTE: 7" WIDE BY 9" TALL 9 - $500
HALF-PAGE TRIBUTE: 7" WIDE BY 4.5" TALL - $300
Click here to purchase your tribute
The GSGA is a 501(C)(3) entity and contributions may be tax-deductible following consultation with one's own tax advisor.