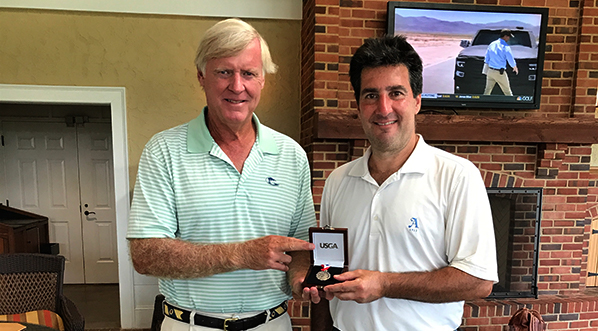 Jack Hall of Savannah and Jorge Cora of Atlanta both posted rounds of 69 to share medalist honors and qualify for the USGA Senior Amateur Championship which will be held at Minikahda Club in Minneapolis, Minn., August 26-31.
The final three qualifiers all posted two-under-par 70s; those players were Bob Royak of Alpharetta, Steve Golliher of Knoxville, Tenn., and John Coles III of Birmingham, Ala.
There was a playoff needed to determine the alternate positions between Jim Foote of Gainesville, Neil Spitalny of Chatanooga, Tenn., Hyungho Lee of Johns Creek, William Leonard of Marietta, and Jack Larkin of Atlanta.
On the first playoff hole (#1), Foote and Lee made bogey and were eliminated along with Leonard who made par and was eliminated. Larkin and Spitalny made birdie and needed one more playoff hole to determine alternate positions.
On the second playoff hole (#2), Larkin made birdie to secure the first alternate spot while Spitalny made par to become the second alternate.
This was an 18-hole qualifier held at Horseshoe Bend Country Club for the USGA Senior Amateur Championship.